Our Mission
Shanghai Valley's mission is to help global entrepreneurs successfully enter the Chinese market or utilize resources and capital in China to grow in the international markets. These entrepreneurs will receive one of the best entrepreneurship training and exposure to global resources with a focus on Chinese markets.
more info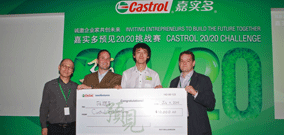 Castrol20/20Challenge – Shanghai
Our management team also led the launch of inaugural Castrol20/20Challenge business competition event in Shanghai.


The video below produced by NBC TV introduces Shanghai as one of the most cosmopolitan cities in the world, featuring Shanghai Valley Founder, Mr. Ken Chang, and a professor from Stanford University.

Sorry. Your browser does not support HTML5 video.